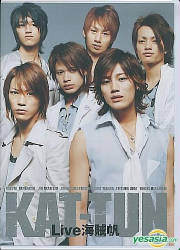 冬音楽界の「海賊帆」・Winter Concert "Kaizokuban"
I'd been waiting for this concert for sooooo long, hearing all about the great new solos by each of the members - new songs, new costumes, a big pirate ship... Well, I've just finished watching the first disc (the second is a behind-the-scenes bonus one), and I wasn't disappointed.
First of all, I LOVE the pirate theme. KAT-TUN produced the whole concert themselves, and did such a good job. The tracklist was ideal, the harmonies were close to perfect, the choreography was exciting and the GREAT BIG PIRATE HATS ROCKED!!! I love pirate Jinni. Wowowowow. You can tell the band worked really hard on this concert. They've improved noticeably in everything, from general vocal ability to dancing in time with each other.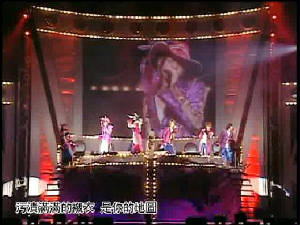 "GOLD" gave the concert a dramatic opening, and the guys' enthusiasm and energy was fired right from the start. A highlight for me was the "Fight All Night" performance, which was enhanced by different instrumentation, harder guitars and a longer run. There was a really funny part a bit later where each of the members did a little talent show in order to be released from Ya-Ya-Yah's dungeon.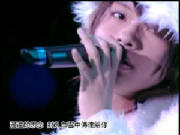 The long-anticipated solos were wonderful. Maru doesn't often sing by himself, but did very well in his own rap-less song. Koki's I didn't like that much because it was mostly rapping. Junno's was good, and I realised that he has a style similar to Koichi Domoto. Kame's "Kizuna" has been heard a lot recently because of the "Gokusen" drama, but I like it much better with the live instruments and he sang beautifully. Jin did a wild sexy-style dance, which began with the silhouette of a woman dancing around him whispering to him in English (which I think was actually Jin's voice), and then his solo was pretty and emotional. In my opinion, though, Ueda's solo was the best. He is a talented writer and composer, and sang with such feeling that he looked like he was lost in a fairytale. You can read the lyrics to it
here
.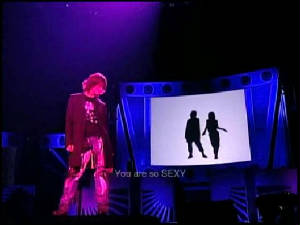 All in all, the concert was lively, exciting and enjoyable all the way through. One of my favourite parts was the Latin Medley, which included Gloria Estafan's "Conga", a tango-style "Ai no Senorita", Jin's solo of the English song "Moon River" and the hip-shaking "Oh-E-Oh! Taiyou no Salsa". KAT-TUN managed to perform a balance of old, new and cover songs, and did them all wonderfully.
The version I saw was downloaded, but it's so great I'm going to buy the DVD. I'd recommend it to any KAT-TUN or Johnny's fan - especially if you're a new fan, because it's a great intro to the group. You can buy it
here
.