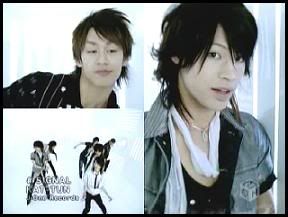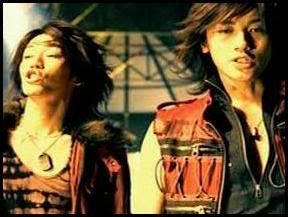 To download: Right click, "save target as...", and then change the file name from "???.wuf" to "???.mpg".
ファンの作ったビデオ・Fan-made Videos
(Right click, "save target as..." to download)
私で作った・Created by me
MPEG file - 50MB
(Same PV as the single version, but with the audio from the album version. I had to cut bits and edit bits and fix the timing, but it worked in the end. Yay!)
小さい上田と妖精のアニメ・Short animated Ueda fairytale video
私で作った・Created by me
AVI file - 12.6MB
(Just a little cartoon I made using
Elouai's Doll Maker
. It's about Ueda's first time seeing a real fairy. Featuring Maaya Sakamoto's "Park Amsterdam" song.)
Left-click on the link to download from [MEGAUPLOAD].
二つの赤西仁のファンで作ったPV・2 Akanishi Jin Fanmade PVs
私で作った・Created by me
(Highlights of all Jin's grooves, moves, hip-shakes and sexy dances. It's sent Jin fans wild, and created new fans of people who didn't like him before. Download, enjoy, and feel free to use the promotional icons I created for them. Please credit this site if you use any of them, though.)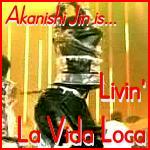 Akanishi Jin is Living La Vida Loca
Feat. Ricky Martin で 「Livin' La Vida Loca」
MPEG 36.4MB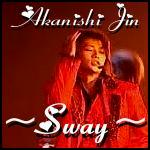 Akanishi Jin ~Sway~
Feat. Michael Bublé で 「Sway」
MPEG 21.4MB
亀梨和也のファンで作ったPV・Kamenashi Kazuya Fanmade PV
(Like the Jin PV, but for Kame I focused on his charm and cuteness because I don't think he's as sexy as Jin. He comes across in this video as a cheeky youngster with a hot but boyish body.)
Feat. Queen で 「Don't Stop Me Now」
私で作った・Created by me
MPEG 28.8MB
もっとビデオ・More Videos
JPOPSUKI
is a great Bittorrent site where I get some big files from (e.g. Kaizokuban concert). Join up, download, and remember to seed afterwards!
LIMEWIRE
is a good peer-to-peer program (like WinMX and KaZaA, but without the spyware), and has a lot of KAT-TUN stuff.
Download it here
and start sharing your KAT-TUN videos and MP3s with fellow fans.
YOUTUBE
is a quickly growing video streaming site where you can watch all kinds of videos online. Just type in a keyword like "KAT-TUN" and it gives you a list of videos to watch online.
リクエスト・Request
「みんなのテレビ」 (.aviでビデオ。ダウンロードの為にBittorent又はBitcometがいる)
"Minna no Terebi" episodes (avi format). You can get them from JPOPSUKI (bittorrent or bitcomet required). The following episodes are currently up for download: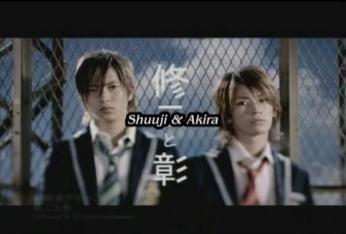 修二と彰で「青春アミゴ」のPV・Shuuji & Akira's "Seishun Amigo" PV
亀とNEWSの山Pの新しいドラマのテーマ歌・The theme to Kame and YamaP's (NEWS) drama "Nobuta wo Produce".
With English subtitles
Download from [MEGAUPLOAD] link
here
MPEG 48.9MB